The fermented tea is garnering fans across the cocktail world, largely due to its ability to deliver complex flavours in a drink. Clinton Cawood stares at the leaves and sees a rich future
---
It's a sign of the times when bartenders are taking inspiration from the shelves and fridges of health food stores. But what's gratifying when it comes to kombucha is that, beyond its association with hippies and the sometimes-exaggerated claims about its health benefits, it actually delivers in terms of flavour, as well as its versatility as a cocktail ingredient.
Kombucha's unique flavour profile is the result of its fermentation process, in which a rubbery, alien-looking combination of bacteria and yeast, or SCOBY, transforms sweetened tea into something altogether more interesting, with acidity, some carbonation, negligible amounts of alcohol, and little to no sugar. Some add flavours and carbonation via secondary fermentation with fruit or other additional botanicals.
For Real Kombucha founder David Begg, kombucha's strength lies in its complexity. "It has a flavour profile and mouthfeel that's closest to sparkling wine. Think a refined balance of tannins, slight bitterness and fruit notes with gentle acidity," he says.
Jarr Kombucha co-founder Adam Vanni agrees. "It offers a level of acidity and complexity that standard soft drinks just don't have," he says. "The beauty of fermentation is that you can transform something as simple as a tea leaf into a unique, complex drink that can provide the same experience as an alcoholic beverage."
The team at The Conduit in London's Mayfair have been experimenting with brewing kombucha for the past year. "It definitely brings extra layers of complexity and a fair amount of tartness to the drink," says bar operations manager Walter Pintus. "And if you brew your own you can develop it to your desired profile, from fruity to floral, spicy or herbaceous."

As a bonus to these organoleptic qualities, this kombucha has all the credentials a health-conscious guest could wish for. Equinox Kombucha MD Daniel Spayne summarises: "Our drinks are 100% raw, low-calorie, low-sugar and vegan, making them ideal mixers and suitable for all diets and tastes."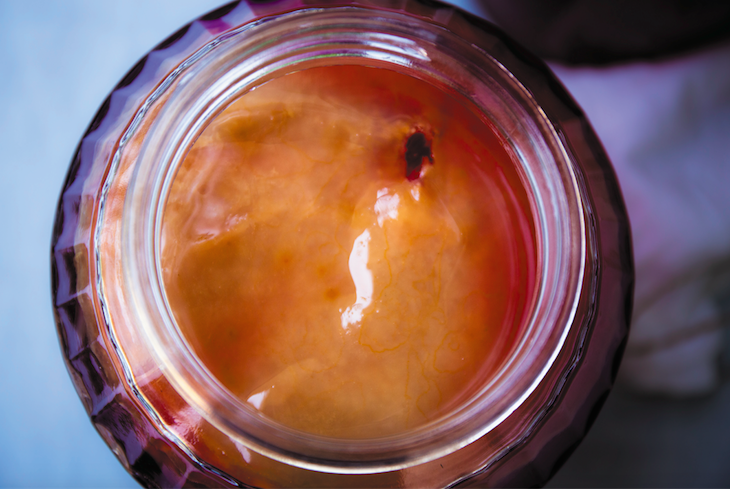 Made for mixing
All these qualities make kombucha ideally suited to a number of uses behind the bar. The most straightforward is to treat it as a mixer, a substitute for tonic, for example. "Kombucha makes a great alternative to sugar-based mixers that tend to overshadow the spirit," agrees Pintus.
And if you need a reason to convince a customer to try it, Spayne has one. "Kombucha can help to prevent hangovers if used as a mixer, as the probiotics can help to balance gut flora that are affected during drinking," he believes.
There's potential for kombucha on cocktail lists too. It's been used as an ingredient at Public in Sheffield for more than a year now, where GM Jack Wakelin points out a sustainability upside too. "It's one of the ways we replace citrus in our menus with the aim of reducing our carbon footprint," he says.
Approaches to mixing with kombucha vary, but many, including Begg, suggest swapping it for sparkling wine. "Being used as a replacement for champagne in longer serves best celebrates kombucha's refined flavour profile," says Begg. "We look at some of the classic champagne cocktails for inspiration, but also the ever-popular Spritz style."
The potential for cocktails has been on Jarr's radar since its early days. "In 2015, before we even launched a bottled product, we opened Jarr Bar, a kombucha taproom and cocktail bar," says Vanni. That Hackney Wick bar is now known as Mick's Garage, offering an on-tap kombucha cocktail entitled Jarr Pink Drink.
If you're catering to the ever-growing demand for non-alcoholic serves – and who isn't? – kombucha is invaluable. Andrea Waters has been aware of this since co-founding alcohol-free Redemption Bar.
"When you're making alcohol-free cocktails, you want to have as much structure and complexity as you can. Soda water doesn't give you that. There are some good non-alcoholic sparkling wines now, but they're always going to be sweeter than kombucha," says Waters.
Redemption Bars recently put a Camille Vidal creation on the menu entitled Fresh Focus that gets the hat trick for health- focused cocktails, combining non- alcoholic aperitif Everleaf, Real Kombucha's Dry Dragon, and CBD in the form of OTO Bitters, together with cucumber and lime juices.
In the early days of Redemption, the team produced their own. "Five years ago kombucha wasn't really a thing in the UK. It was a hippie drink. There weren't any non-alcoholic spirits or even good non-alcoholic sparkling prosecco either. We had to make everything from scratch," says Waters. "But there are pitfalls. Making it at home is easy, but making volume and keeping it consistent once you have two or three sites isn't viable. It's better to find a good supplier, and they're out there now."
It's a similar story at Public, where demand has exceeded the storage space for the many kilner jars of kombucha the bar's cocktails required, and it now stocks Jarr Kombucha. Wakelin is encouraging nevertheless. "My advice would be to give it a go – recipes are easily accessible online," he says.
Failing that, there's a growing number of good suppliers in the UK, and they're increasingly making their kombucha available on draught. Handy when we're talking about a product that should be used as soon as possible once opened, and if you're only using small amounts in cocktails.
Whether you dive into the deep end with a SCOBY of your own, or use one of the many existing kombuchas on the market, this fermented tea is worth liberating from those health food stores.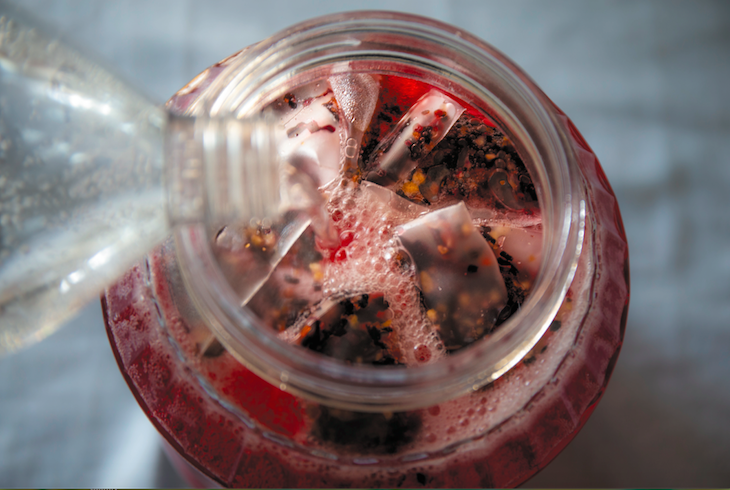 BASIC KOMBUCHA RECIPE (Word Class Studio)
Equipment/ingredients required:
1 glass jar. Do not use metal or plastic as the kombucha can degrade it

1 plastic or wood stirring utensil

1 saucepan

1m muslin cloth

Elastic bands

1 kombucha culture (SCOBY)

2 litres filtered water

3 or 4 bags of tea (green, white or black)

200g granulated sugar

2 tablespoons cider vinegar



Preparation:

Bring 500ml of water to the boil and allow the tea to gently simmer for five minutes before removing.

Strain into measuring jug and add sugar. Stir to dissolve.

Add remaining 1,500ml water and two tablespoons apple cider vinegar then allow to cool to room temperature (68°-85°F/20°-25°C). The vinegar creates an acidic environment within which the SCOBY can grow.

Add the SCOBY to the jar but ensure that the liquid is at room temperature (68°-85°F/20°-25°C).

Allow to ferment for seven to 30 days. Taste the liquid until you find the desired flavour.

When ready, remove the SCOBY with clean hands and place on a plate. Strain the liquid into a clean, sealed bottle.